Skin Care Emergencies -- Solved

Posted by Anna on February 10, 2011 at 02:46PM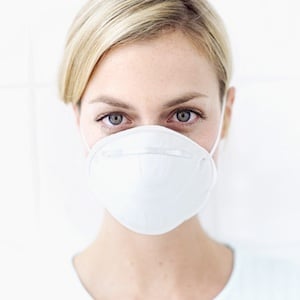 Operator: 911, what is your emergency?
Me: Hi, I'm going to need backup. I've got a pimple that's broken into my chin. I want to pop it, but I'm scared. It's armed, it's dangerous and it's threatening to ruin my Valentine's Day!
Operator: Alright ma'am, calm down. We both know that unless you know how to pop a pimple the right way, you're only going to end up getting hurt. Now listen carefully, I'm going to need you to walk into your kitchen.
Me: My kitchen?!
Operator: Yes ma'am, you're going to need to trust me. Walk into your kitchen and open your cupboards. In there you will find at-home fixes for your skin care emergency.
Alright, so maybe that's not quite how the dispatch officer would handle a phone call to 911 about a looming zit or puffy eyes emergency, but perhaps it should be. Especially since skin care experts say you don't need a miracle cream to clear blemishes and zap zits, soothe facial irritation, bring pH balance to the skin, calm insect bites and sunburns, and soothe red, itchy skin. All you need is your will and some key kitchen cupboard ingredients. Here they are:
For an acne breakout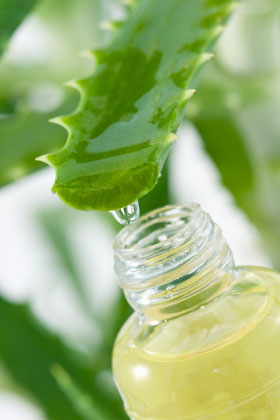 This nighttime cream will help calm breakouts and clear up pimples by restoring pH balance to the skin. The key ingredient is aloe, a powerful healing plant.
Aloe Pimple Potion
Ingredients:
2 tablespoons or more aloe gel
3 ounces grape seed or almond oil
1 ounce liquid lanolin
2 ounces rosewater
Directions:
"I like to take a leaf of aloe, cut the edges off with a sharp knife, peel off one side of [the] leaf, and gently scrape out the gel," says skin care expert Melinda Joy Miller. Combine aloe with oil and beat together using a whisk, electric mixer, or blender. In a glass bowl over a pan of hot water, melt liquid lanolin into the mixture. Remove from heat and cool; then add in the rosewater. Store in a cream jar. Use at night as a body ointment or face cream on any blemishes, says Miller.
For a sunburn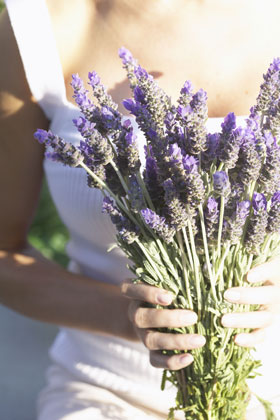 This bath powder recipe is ideal for calming a bad sunburn or even insect bites. The oatmeal and baking soda help soothe skin, and the lavender contains relaxing qualities, says skin care expert Janice Cox.
English Lavender Bath
Ingredients:
1 cup lavender flowers (fresh or dried)
2 cups oatmeal
1/2 cup baking soda
Directions:
Place ingredients inside a food processor or blender. Grind until you have a smooth, fine powder. The powder should have the consistency of whole grain flour. Pour into a clean airtight container. To use, pour 1/2 cup into your bath as you fill the tub. Yields 28 ounces -- just enough for seven baths.
For inflamed skin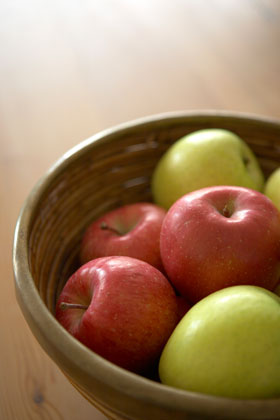 Apples have been used for centuries in food and beauty recipes. They are 85 percent water, and high in potassium and vitamins A and C. When used as a facial toner, apple pectin helps soothe skin, says Cox.
Apple Pectin Toner
Ingredients:
1 apple, cut up with peel, seeds removed 

1/2 cup water
1/4 cup witch hazel
Directions: 

Place the cut-up apple in a small saucepan with the water. Bring to a boil and remove from the heat. Allow the mixture to cool completely, then strain out the apple chunks. Stir in the witch hazel and pour into a clean container. To use, spritz on your face or apply to skin using a clean cotton ball.
For flaky, dry skin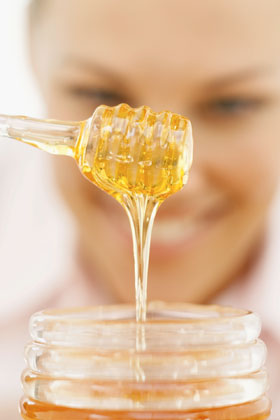 Women have used egg masks for centuries, says Cox. This particular recipe helps relieve dry skin and will become your at-home beauty staple.
Egg Mask
Ingredients:
1 raw egg
1 tablespoon honey
Directions:
Mix together egg and honey. Spread onto your face and neck and let sit for 15-20 minutes. Rinse well with tepid water.
For puffy, tired eyes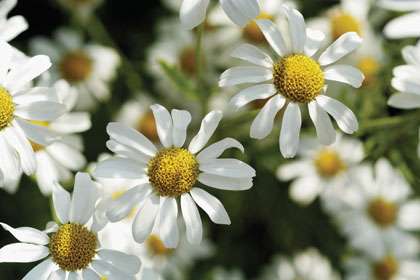 Chamomile flowers can be added to witch hazel for relaxing and rejuvenating the eyes, says Miller.
Chamomile Eye Calmer
Ingredients:
2 cups witch hazel
1/2 cup chamomile flowers
1 aloe leaf
Directions:
Combine witch hazel with flowers. Steep for one day in the sun. Strain out flowers from the liquid and pour into a clean glass jar. Add gel from the aloe leaf. Store in the refrigerator. To use, pour onto two cotton balls, lie down, place the cotton balls on your eyelids, and listen to some soothing music for 15 minutes.
For a monster zit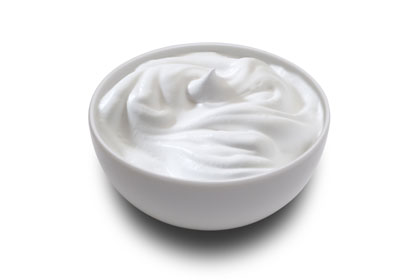 Apply this to a pimple or drink it to cleanse your digestive system, says Miller. If using topically, apply only onto the pimples (which will tingle a bit) because the acidity in the garlic may sting normal skin.
Yogurt Zit Zapper
Ingredients:
1/2 cup plain, organic yogurt
1 or 2 cloves of garlic crushed to a paste
1 cup water
Directions: Combine yogurt with garlic and let steep for six hours. Then, add boiling water to mixture. Whisk vigorously. Strain with cheesecloth to remove pieces of garlic. Let cool before using.
Didn't address your skin care emergency? Check out the rest of the at-home fixes here.