Scared to Color Your Hair at Home? Get Help Here!

Posted by Sarah on November 6, 2009 at 04:16PM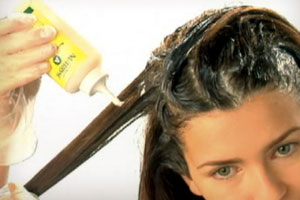 Call me a wimp, but I find at-home hair color pretty intimidating. I look at all the boxes and the little shade charts and see the long list of instructions and I just know that my klutzy self will botch something up along the way.
Do you feel the same way? Even if you don't, it's still worth checking out this at-home hair color video if you're thinking at all of coloring your hair. Even seasoned pros will learn a thing or two.
A few things I learned (spoiler alert!):
No. 1: Damaged hair is a no-no for color. Sure, you may be thinking well, duh, but I know plenty of people with fried hair who wonder why their color doesn't come out evenly. If you need help repairing your hair, check this out.
No. 2: Pay more attention to the shade chart than the color name. It's tempting to just pick up the box color that has the shade you want on the front, but you may not end up anywhere near that hue if your hair isn't the right color to begin with. That's why it's crucial to look at the color chart to determine what shade your hair will end up at based on your starting point.
No. 3: Start at your roots and work your way down. Trust me, it's much better than willy-nilly applying it all over your head. By doing it this way you'll ensure that your healthy roots absorb as much color as your damaged ends -- so you avoid that two-toned or stripey look (like this -- ew!).