Pretty Compacts -- to Use or Not to Use?

Posted by Kristen on July 25, 2008 at 03:59PM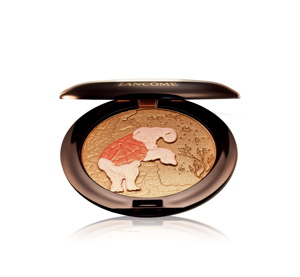 Lancome's fall collection hits stores this month and I was lucky enough to score the gorgeous Poudre Elephant Teint (see photo above). It's a shimmery powder bronzer that has an elephant emblazoned on it. I love these gorgeous compacts, but I always feel bad about using them -- it always mucks up the pretty design in the powder. Well, I bit the bullet and decided to give it a swirl and dust it on my cheeks, forehead, nose and chin. It gave my fair skin a toasty golden glow, but do watch out for the red blanket area -- it is highly pigmented and will give you more of a sunburn effect -- ouch!
How do you feel about buying pretty compacts like this? Do you buy them and use them or not? Do you agree that it's pointless to buy something this pretty if you're not ever going to put it on your face? Or do you just go for it?