My Day of Lash Pimpin'

Posted by Kristen on March 12, 2008 at 04:58PM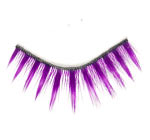 Make Up For Ever just launched their Lash Pimpin' faux lashes at Sephora, and I was one of the first to get my lashes "pimped."
I go fairly natural when it comes to makeup, but I went all out and applied the Eva #133 lashes (as you can see from the photo above). Though crazy-looking in the package, once they were on I didn't look as drag queen as expected. (Check out my photo with lashes on one eye below.) If you're not into experimenting, there are many natural-looking styles to choose from so don't be scared. Go to sephora.com to see all 55 of the faux lash styles.)

In addition to getting a hot pair of souped-up lashes, I also picked up a couple of application tips from makeup artist Kevin Bennett, like: Measure the lashes before you apply glue and cut them to size by snipping the inside (not outside) lashes off with small scissors. To give a more natural curve to the lashes, making them easier to apply, roll them around a pencil (before applying glue) and hold for a few seconds. Last tip: After gluing lashes on, squeeze your lashes into the false ones at the base to get them as close as possible -- it really anchors them.
For more in-depth how-to application, go to TotalBeauty Television and click on "How To Apply Fake Eyelashes."