Makeup Toting "Mad Men" Barbies Debut After Premier

Posted by Kristen on July 26, 2010 at 05:15PM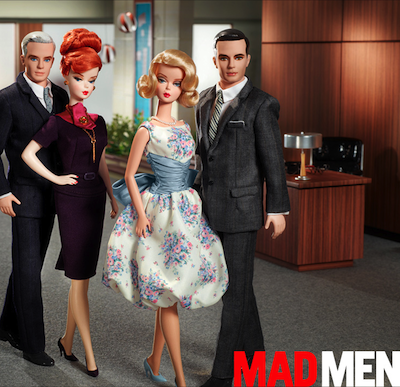 *Photo: BarbieCollector.com
If it was socially acceptable for me to play with Barbies at my age, I would, no doubt. Unfortunately, this is not the case. It is however acceptable for me to collect Barbies, as long as I keep them on a shelf and don't secretly comb their hair at night or parade them around in their dream house. So needless to say I was elated to hear that following the world premier of "Mad Men" last night, Mattel launched (available today) the "Mad Men" Barbie Collection consisting of the four most popular characters: Don Draper, Betty Draper, Roger Sterling and Joan Holloway.
The "Mad Men" Collection is available at BarbieCollector.com for a whopping $74.95 -- obviously not the perfect present for little Susie's fifth birthday. While the dolls don't come toting their signature highballs or cigarettes, they do come with what I believe to be way more impressive accessories. The lovely Betty Draper, the "quintessential All American Girl" as Mattel calls her, comes with her favorite shade of coral lipstick (perfect for a summer debut as coral lipstick is one of the 11 best makeup looks for this season), a comb and a gold compact engraved with a "B" for Betty. Everyone's favorite redhead, Joan Holloway, sports classic red lipstick to complement her fiery strands (find out if the real-life Holloway, Christina Hendricks' crimson color is the real deal here).
So will you shelve your embarrassment for loving Barbie over 30 and pick up these retro-chic "Mad Men" dolls?
• Not a fan of coral or red lipstick? Take this quiz to find out which lipstick hue is perfect for your skin tone.
• While Draper's classic French twist always looks dashing, not all retro styles are worth bringing back. See the best and worst of retro celebrity hairstyles.
• Want in on a little beauty discount secret? See how to get great deals and exclusive offers on beauty products here.
• Keep up with the latest in beauty -- follow us on Twitter, add us on YouTube and friend us on Facebook.