New Skin Care Product That'll Give You Feet as Soft as a Baby's Tush

Posted by Kristen on July 23, 2010 at 07:03PM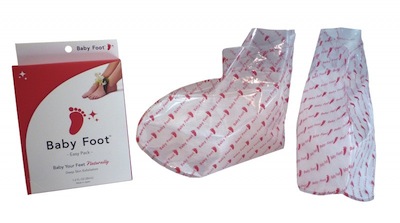 As we all know, summer is both a blessing and a curse for feet. We all rejoice when sandal season comes around and then grumble at the cracked heels and calluses that come with baring our soles (sounds dramatic, but having nasty, crusty feet can be that dramatic). Between my love of flip-flops and days of padding around barefoot on hardwood floors, my foot files and creams just can't keep up.
You can only imagine how excited I was to discover the Baby Foot booth while reporting live from Cosmoprof North America. Which is why, without further ado, I'll say that Baby Foot Easy Pack, $19.95 is my pick for "best in show" in the nail-related category. Each pack contains a pair of plastic gel-lined slipper socks that effectively moisturizes and exfoliates dead skin cells. Now we've all seen moisturizing slipper socks, but what makes Baby Foot different is the exfoliation aspect. You wear the slippers for two hours (a long time, but a perfect excuse to rent a chick flick and get in some quality "me" time -- whatever that is) and in two to seven days, the excess skin starts to peel off (a tad gross, I admit) -- revealing baby smooth feet. The layers of dead skin shed naturally thanks to a high concentration of lactic, glycolic and citric acids.
The only caveat to using Baby Foot is that you have to refrain from wearing heels or doing excessive exercise for a week after use, but with the results it claims to provide, I say that's a small price to pay. I'm ready to say adios to dry, cracked skin and hola to silky, soft heels, so I'm going to give it a go. Now I just need to get my hockey-playing boyfriend to slip on the magic booties. And I thought my feet were a mess ...
by Michelle Mismas, All Lacquered Up