Body Bronzing Showdown

Posted by Kristen on May 27, 2008 at 04:45PM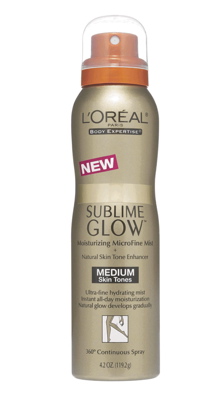 Now that I'm days away from my sister's wedding, it's time to get serious about our faux tans for the day. Because I don't want to risk a bad at-home self-tanning job or uneven spray tan job, I usually turn to body bronzers to warm up my pasty skin for big events like weddings.
I've used Sally Hansen Airbrush Legs many times in the past and have had great success in getting an even, natural-looking tan that doesn't rub off on clothes. But because I, like many of you, am a product junkie I have to explore others to make sure what I'm using is the best. The two I've been experimenting with recently are: MAC Skinsheen Leg Spray and L'Oreal Sunless Sublime Glow Moisturizing MicroFine Mist.
Both are spray formulas, though the L'Oreal mists on as you would expect it to -- like hairspray -- so you can spray it right onto your body (I suggest doing this in the shower so you don't stain walls, floors or lovely white bath rugs). But the MAC squirts out in a spotty manner; it's meant to be squirted into palms and then applied to your body. The MAC had a reddish-bronze hue whereas the L'Oreal looked similar to the Sally Hansen, a brown with a more yellow undertone. My legs (I tested one product on each) came out looking great and not very different from each other, but the MAC did stick around a touch longer.
I also used the MAC 179 Body Buffer brush to blend the MAC, but I recommend using this with any of these body bronzing products as most need to be blended after application. The brush blends the product seamlessly and feels great on skin -- definitely worth the investment.
I haven't decided which formula will be used on my sister's big day, but I'll keep you posted.
Do you have a fave body bronzer I didn't mention? Maybe I should add it to my testing list. Let me know.