Beauty Benefits of Dark Chocolate

Posted by Kamala on July 22, 2011 at 05:18PM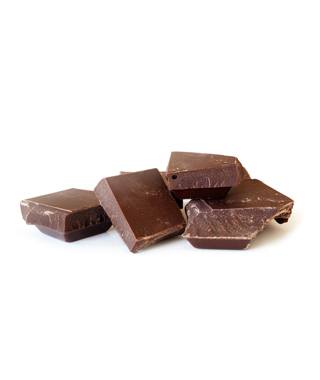 It's official: chocolate is no longer considered a junk food.
Well, dark chocolate at least.
It turns out that eating just a few squares of dark chocolate on a weekly basis can yield many beauty-boosting benefits, making this guilty pleasure a beauty-licious health food.
The beauty benefits of dark chocolate are extensive, says Mary Engler, PhD, of the University of California San Francisco. Chocolate originates from cacao beans, which are abundant in flavanols -- antioxidants that protect your skin from UV damage and help fight wrinkles, lines, and skin discolorations. Fun fact: a cup of cacao can contain more antioxidants than a glass of red wine or green tea.
A study conducted by "The Journal of Nutrition" found that participants who consumed chocolate high in flavonols (think dark chocolate) experienced improved skin texture and hydration, less sensitivity to the sun, and had 25 percent less skin redness.
When choosing your chocolate, follow these tips from Tierry Muret, Godiva Executive Chef Chocolatier:
1. Check the ingredients label. Ideally, you want to get a dark chocolate that contains 70 percent cacao or more; if you see sugar or milk listed as the first ingredient, chances are you don't have the healthiest chocolate on your hands. Try Ghirardelli's Midnight Reverie, which contains 86 percent cacao.
2. Remember that bitter is better. The beneficial flavonoids give dark chocolate that bitter taste, so if you're looking for serious beauty benefits, you'll want your chocolate to have a little bitterness.
According to Dr. Engler, 2 to 3 ounces of dark chocolate is all you need on a weekly basis, and be sure to keep track of your portion sizes. Despite its good qualities, this sweet treat is still a high-calorie food.
Dessert time just became a lot more appealing, right? Who knew looking good could be so tasty?