A New Way to Pick a Fragrance

Posted by Sarah on October 7, 2008 at 04:38PM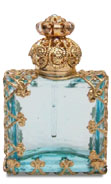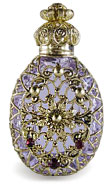 Recently Charli and I met with the creators of boutique fragrance company Ajne, who have a pretty unique way of matching clients to their perfect scents.
Before we smelled anything, they had us take quizzes to determine our chakra levels. I was actually surprised to see that their quiz wasn't too different from the fragrance quiz I had written. It asked questions about our lives and determined which areas we were strong in and which could use a "fragrance boost."
The quiz was more accurate than I thought it would be (I do in fact over-analyze everything, which it easily spotted) but not 100 percent accurate. It was good enough though for them to recommend five perfumes for Charli and I to test. We each wound up with a scent that was perfect for us -- mine was Printemps -- and it was a much more pleasant experience than sniffing dozens of bottles at a department store, my usual method of testing.
You can buy their scents on their Web site or if you're ever in Carmel, Calif., check out their store for a more personalized experience.
Also, aren't the bottles (above) gorgeous?!