Quiz: Does Your Hair Color Match Your Personality?
Just because you were born with it doesn't mean you have to live with it. Answer these questions to see which color your hair should be
We've all heard blondes have more fun and brunettes are more serious. And as much as we want to roll our eyes at these generalizations, we have to wonder -- are people judging our personalities based on our hair color too?

The "Cosmos" of the world would certainly have us believe just that. Heck, even science has a thing or two to say about how our hair color impacts our lives. Researchers from University of Queensland found that blondes make seven percent more than women with other hair colors regardless of their education. (So much for the dumb blonde jokes!)

But before you reach for the peroxide, remember that there's a lot to consider when it comes to what your hair color says about who you are. To explore the idea and help you in the search for the color that represents your unique personality best, we talked to Colette Hagiwara, Color Director from Yoshi Hair Studio in Beverly Hills, Calif. and Marie Robinson, Color Director from Clairol.

So go ahead, take this quiz and get the best hue for you with personalized color consultations based on your personality traits.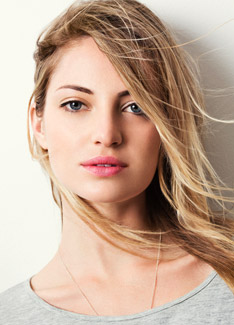 Your Results
Quiz: Does Your Hair Color Match Your Personality?
You should be BLONDE!

. If you're not blonde already:

Definitely consult a colorist at a salon before making the change, especially if you're going from dark to light. Since going blonde is a challenge to do on your own without frying your hair, it's best to leave this process to a professional instead of relying on an at-home box color. A colorist will be able to adjust the dye formula and processing time depending on how well your hair takes to the new color, says Robinson. A perk of going to a colorist: You will pretty much always end up with the color you want.

To help your colorist know exactly what kind of a blonde you want to be, both Hagiwara and Robinson say it's best to bring in magazine clippings and pictures (old school, but effective) so the colorist can see exactly what shades and tones are needed for the shade you want. Hagiwara says warm blondes that have honey and gold tones are the most flattering for all skin tones.

First coloring session? Only take your hair three shades lighter (at most). This gradual process will be better for your hair and ensure you end up with the perfect color. However, be prepared to commit to two to four visits to the salon before you end up with the perfect blonde, depending on your current hair color. After dying your hair, try a hair mask or Keratin treatment to minimize damage and use products specifically formulated for color-treated hair to extend the life of your color.

To keep your hair color as vibrant as when you stepped out of the salon, Robinson recommends washing your hair every other day and minimizing exposure to the sun and chlorine during the summer. It's also a good idea to spritz your hair with a UV protectant, like Rene Furterer Protective Summer Fluid, $23, daily.

If you are already blonde:

Congrats, you're one of the lucky ones who already has the hair color that matches your personality. However, if you're looking to liven up your color, you do have more options. If you want to do it yourself, an at-home color kit is a good choice for blonde hair, says Robinson, as long as you only go one or two shades lighter or darker (try L'Oreal Paris Excellence Creme with Pro-Keratine Complex, $8.99).

Another option is to add highlights and lowlights to your hair, making your blonde hair more multi-dimensional (think more Jennifer Aniston and less Gwen Stefani). For a natural look, keep the highlights and lowlights within three levels of your base color. If you go to a salon for this service, the colorist will be able to vary the size and width of the highlight or lowlight section for a natural look. If you're doing an at-home color for highlights and lowlights, Robinson gives the following guidelines for picking the right box color:

• If you want a bright, warm blonde color, choose colors that say caramel or golden.
• If you are darker than a light brown, choose colors that say ash, beige, or cool to get the most natural-looking color.
-->