What's Your Best Eye Makeup Look?
Get rid of the guesswork. Take this quiz to find out which eye makeup combos will enhance your eyes the best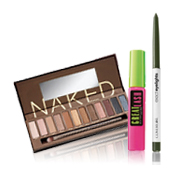 Your Results
You should wear gold and green shades
You most likely have brown eyes and/or medium skin tone. The best shade for you is one that can really magnify the color of your iris while complementing your skin tone. If you have a medium skin tone, Barose recommends staying in soft golden tones for your eyeshadow. And brown eyes are the most versatile when it comes to eye makeup, since brown is complementary to most colors.

Shadow: To bring out any hazel flecks in brown eyes, Geller says to swipe on golds and ambers, "because they'll make the eyes have a 'lil bit of a twinkle." Be sure to stick with warm, bronzy, and multidimensional hues. Try Urban Decay Naked Palette, $48.

Liner: Geller says, "I always feel like everyone who has brown eyes has a tint of green. So I love dark forest green liner." You can also pair it with soft green eyeshadow to really bring out the color of your irises. Try CoverGirl Exact Eyelights Eye-Brightening Eyeliner in Majestic Jade, $7.99.

Mascara: "When it comes to mascara, you're talking to somebody who's a full-fledged believer that black mascara [is] the icing on the cake," says Geller. "When your eyes are brown, [your mascara] needs to [match] the depth of color that your eyes are" to really stand out. Try Maybelline New York Great Lash Washable Mascara in Blackest Black, $6.40.
Rate this story|Avg member rating: 6