Your Skin Challenges -- Solved!
Take this facial skin care quiz to get customized skin care tips on winning your skin battles, from acne and wrinkles to chronic dry skin
Does it feel like your skin is conspiring against you, sprouting pimples or fine lines when your back is turned? It may seem impossible but you can overcome any skin challenge and have a flawless complexion -- with the right care. Take this quiz to identify your enemies and get tips on how to conquer them.
Your Results
Your Skin Challenges -- Solved!
Your biggest skin challenge: defending against dryness.
Surprised? If you're not typically dry, you might be experiencing a dip in moisture thanks to your body's hormonal fluctuations. And when winter hits, any skin type may have problems holding in moisture due to drying indoor heaters. Or if you took a vacation in a humid climate and now you're somewhere dry, your skin may be adjusting. Follow these steps toward your ideal skin regimen:
Step 1. Cleanse
Find a gentle, soap-free cleansing bar that contains soy or oatmeal, two naturally protective and moisturizing ingredients.
Step 2. Moisturize
Parched skin is easily irritated since it lacks a minimal moisture barrier, so be sure to apply moisturizer often. For day, look for a fragrance-free moisturizer with SPF. At night, minimize your exposure to irritants by using an SPF-free moisturizer for sensitive skin. When you're feeling extra dry, reach for the most hydrating of all -- a product that contains hyaluronic acid. If part of the problem is a dry climate, consider getting a humidifier.
Step 3. Fight fine lines/wrinkles
An over-the-counter cream that contains alpha-hydroxy acid (AHA) can smooth the appearance of fine lines by increasing cell turnover. For deeper wrinkles, a doctor may prescribe a cream that contains retinol, a form of vitamin A that according to New York City dermatologist Dr. Debra Wattenberg (and several studies) "is effective as a mild collagen stimulator." Another option? Inject fillers like Restylane or immobilize the muscles around skin creases with Botox injections.
Step 4. Pamper your eye area
Unless you're allergic, look for a rich eye cream with hydrating sodium hyaluronate or glycerin. Added ingredients like caffeine can also fight any puffiness.
Learn about a new anti-aging breakthrough at olayprofessional.com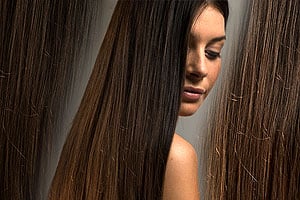 -->