Your Skin Challenges -- Solved!
Take this facial skin care quiz to get customized skin care tips on winning your skin battles, from acne and wrinkles to chronic dry skin
Does it feel like your skin is conspiring against you, sprouting pimples or fine lines when your back is turned? It may seem impossible but you can overcome any skin challenge and have a flawless complexion -- with the right care. Take this quiz to identify your enemies and get tips on how to conquer them.
Your Results
Your Skin Challenges -- Solved!
Your biggest skin challenge: appeasing your sensitive skin.
If you're not normally a "sensitive" person, you may be experiencing a period of this now if you're in dry air (indoors during the winter) or if you've been spending a lot of time doing skin-drying activities like swimming. Tip: The American Academy of Dermatology suggests sticking to powder and non-waterproof cosmetics when possible because they contain less-irritating fixatives. Also, heed this very important warning: Just because a product is labeled fragrance-free doesn't mean it's safe for your fickle skin. According to the FDA definition, these products can still contain a small amount of fragrances to mask other smells. So make sure to read the list of ingredients for the word "fragrance." Follow this skin regime to prevent irritation:
Step 1. Cleanse
Find a creamy, gentle cleanser, preferably one containing less than 10 ingredients. Make sure alcohol, fragrance, perfume, benzoyl peroxide and salicylic or glycolic acids aren't on the list.
Step 2. Moisturize
Again, keep it simple by using products that don't have an epic ingredient list. For daytime, look for a moisturizer with at least SPF 15. The American Academy of Dermatology suggests some sensitive skin types better tolerate the natural sunscreen ingredient titanium dioxide. Skip SPF at night to limit your skin's exposure to chemicals.
Step 3. Fight Fine lines/wrinkles
Look for products that contain few ingredients (so there is less of a chance one of them will irritate you). Also look for products that soothe and add moisture in addition to fighting lines so your skin doesn't get aggravated. And start slow when using any products containing retinol or alpha-hydroxy acid so you can see how your skin reacts to them.
Step 4. Pamper your eye area
Because sensitive skin is often dry, it might be tempting to pile on eye cream, but common anti-aging ingredients like AHAs or vitamin C may irritate your skin. Instead, look for a gentle eye cream that's heavy on hydrators like shea butter, aloe or olive oil but light on everything else.
Learn about a new anti-aging breakthrough at olayprofessional.com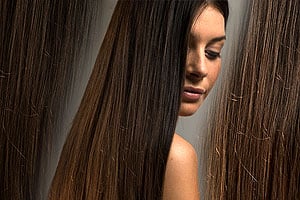 -->