Your Skin Challenges -- Solved!
Take this facial skin care quiz to get customized skin care tips on winning your skin battles, from acne and wrinkles to chronic dry skin
Does it feel like your skin is conspiring against you, sprouting pimples or fine lines when your back is turned? It may seem impossible but you can overcome any skin challenge and have a flawless complexion -- with the right care. Take this quiz to identify your enemies and get tips on how to conquer them.
Your Results
Your Skin Challenges -- Solved!
Your biggest skin challenges: suppressing oil and acne.
Oily skin can make you prone to pimples, large pores and a slick mid-day complexion. Here's the best way to care for your skin and battle the grease:
Step 1. Cleanse
Find a cleanser spiked with salicylic acid to control oil production and prevent the development of blemishes. If you opt to use toner, consider using a witch hazel-based product instead of one that contains alcohol, which makes your skin think it's dry and triggers oil production.
Step 2. Moisturize
Look for an oil-free daily lotion (not a heavier cream) that contains sunscreen. To limit the chemicals you put on your skin, switch to an SPF-free lotion at night. Note: On hot, humid days, it's OK to skip moisturizer but don't forget to put on sunscreen.
Step 3. Fight fine lines/wrinkles
Try using a serum that contains vitamin C. It'll help fight free radical damage without aggravating acne.
Step 4. Pamper your eye area
Test a few brands and zero in on a lightweight anti-aging eye product -- anything too heavy or creamy will cause makeup to run. Find a product that contains vitamin C, which helps correct sun damage.
Learn about a new anti-aging breakthrough at olayprofessional.com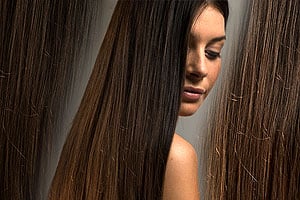 -->