Quiz: Does Your Foundation Suck?
Find the face makeup formula that will finally give you flawless-looking skin no matter the type whether you have dry, oily or sensitive skin
How many times has your foundation looked great at the beauty counter, then "off" the next day? We talked to celebrity makeup artists Gita Bass and Molly Stern and Procter & Gamble senior scientist Sarah Vickery to help you figure out what went wrong. Take the quiz to find out what kind of makeup your skin really needs and get expert tips on making your skin look its best.
Your Results
Quiz: Does Your Foundation Suck?
Your best foundation type is a liquid foundation with a wide shade range..
"It's easy to go wrong when trying to find the right shade. People generally see themselves as a shade or two darker than their natural complexion, which leads to a poor match and a visible jaw line," says Stern. To remedy this, make sure that your foundation matches in natural light (go outside with a mirror if you must). If buying from a drugstore, go with one that offers a color guarantee so you can take it back if it doesn't match. (Check your local store's return policy here.)
As for coverage, choose a buildable liquid foundation with a wide shade range. Ones to try: Shiseido The Makeup Dual Balancing Foundation SPF 17,$36; CARGO Foundation, $28; Lancome Color Ideal, $37; CoverGirl Queen Collection Oil-Free Moisturizing Makeup, $7.77.
TIP: "A good liquid can be layered to achieve a natural, yet full coverage look," says Stern. "Use them with a light hand to avoid a mask look." For lighter coverage, mix with a tinted moisturizer or apply with a damp sponge. For full coverage, mix with a thicker foundation (like Prescriptives Any Wear Multi-Purpose Makeup Stick, $35) and use a dry sponge or concealer brush to tap on over trouble spots.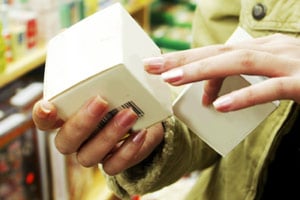 -->