Quiz: Does Your Foundation Suck?
Find the face makeup formula that will finally give you flawless-looking skin no matter the type whether you have dry, oily or sensitive skin
How many times has your foundation looked great at the beauty counter, then "off" the next day? We talked to celebrity makeup artists Gita Bass and Molly Stern and Procter & Gamble senior scientist Sarah Vickery to help you figure out what went wrong. Take the quiz to find out what kind of makeup your skin really needs and get expert tips on making your skin look its best.
Your Results
Quiz: Does Your Foundation Suck?
Your best foundation type is a liquid or mineral foundation..
Mineral foundation can be layered for full, yet natural coverage when needed. "Both tend not to clog pores or contain harsh chemicals," says Stern. "Additionally, most mineral makeup contains titanium dioxide, which is a natural protector against the sun, and additional SPF; this is important for everyone." (Try ColoreScience Foundation, $60 or Physicians Formula Mineral Wear Loose Powder Foundation, $10.99).
If your skin is acne-prone, opt for a liquid foundation with acne-fighting ingredients like salicylic acid in it (try Neutrogena SkinClearing Oil-Free Foundation, $10.29). Then boost coverage with a concealer or slightly thicker oil-free, fragrance-free, non-comedogenic foundation.
TIP: "When applying mineral makeup, once you have lightly tapped powder on desired areas, use a large powder brush to blend the powder by swishing and swirling the brush over your skin," says makeup artist Joanna Schlip. "Light, short, quick whisking motions work best." (If mineral foundation tends to dry out your skin, apply a layer of moisturizer to clean skin first and let it soak in for a few minutes before putting on makeup. If your skin looks more oily with mineral foundation on, use an oil-control primer first.)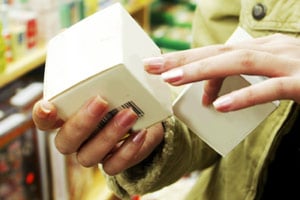 -->