Fitness
Just Got Engaged? Here's What You Should Do First
Said "Yes!" this holiday season? Here are the top three beauty habits you should change ASAP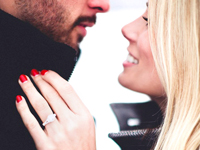 If spring is wedding season then the holidays are engagement season. So it's no surprise that many women are currently flashing some new bling on their left finger, and they've also probably added quite a few new "To Dos" to their 2013 resolutions list.
If you are one of these brides-to-be, there are three key things you're going to want to jump on before go into wedding prepping overdrive. Although it may seem far too early to be thinking about beauty when you haven't even selected a dress, long-term planning is key if you want to look flawless on your big day. Keep reading to see the three beauty changes you need to make right now.
Get Glowing Fast
Your first stop shouldn't be to a possible venue, it should be to the dermatologist. If you haven't been in a while -- or even if you go regularly -- you're going to want to update your skin guru so they can hatch your perfect skin care regimen. After all, the best way to ensure you won't get a surprise zit on the morning of your "I Dos" is to stick to a routine you know works -- no last minute peels or gimmicky facials.
Get in Shape to Dance All Night
If kicking the New Year off right doesn't motivate you to join the gym then maybe wanting to look gorgeous in a strapless gown will. To ensure you actually keep up with your fitness routine right up to your wedding, join a bridal fitness class, many of them have long term plans, which are much more realistic than a 6-week boot camp.
Save Room for Cake-Tasting
Heads up: Things are about to get stressful. The good news is if you are eating right (
superfoods
are a must!) you will be much better equipped to handle your mother-in-law and last minute guest changes. Plus, if you start a healthy food plan now you will be less inclined to try a crash diet a few weeks before the ceremony.