Posted by Total Beauty 09/04/12 at 03:37PM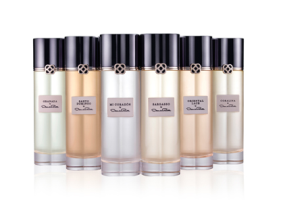 Oscar de la Renta has made a comeback over the last few years (in no small part due to the Twitter efforts of @OscarPRgirl), and his beauty profile continues to grow. After last week's exciting
nail polish launch
, he's keeping the momentum going and announced that not one, but
six
new fragrances will be hitting shelves this Thursday.
While many fragrances have significance to the designer and tell some sort of story, we've never heard of a collection as specific as this one. The Essential Luxuries, $150 each, as the sextet is called, were each inspired by one of de la Renta's favorite places and the memories he created there.
Coralina, for example, is named for the opalescent, ginger-colored Coralina stone, which can be found throughout de la Renta's estate in the Dominican Republic. The scent is a blend of mimosa, violet and woody green notes, and the effect is soft and serene. Meanwhile, Sargasso represents the scent of the Sargasso Sea -- like the most glamorous blend of seaweed and salt air.
So even if an Oscar de la Renta ball gown isn't in your foreseeable future, you can still wear something that he created -- and with even more personal significance to the man himself.