Posted by Total Beauty 03/20/12 at 05:49PM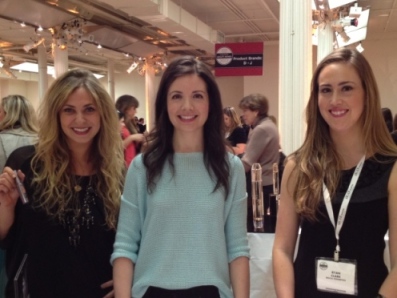 A couple of weeks ago, I had the opportunity to check out the Cosmetic Executive Women (
CEW.org
) Product Demo -- a show that featured more than 600 beauty products from more than 300 brands. (Here I am, in the middle, with Juliette from Benefit [left] and Ryan from Becca [right].) To say that it was overwhelming would be an understatement.
I arrived and spent the first hour wandering through the aisles, familiarizing myself with all of the best launches from 2011. Most of the products I already knew intimately (like
Sally Hansen Salon Effects Real Nail Polish Strips
, $12? Of course!), but there were also some smaller lines that I got to see in person for the first time. When I thought I was finished, I started to say goodbye to some beauty industry friends, only to be informed that I had barely made a dent in the expo -- there were two more rooms, and hundreds more products. I grabbed a mini cupcake and a glass of wine and started to systematically make my way through the rows. I know I missed a lot, but it was great to see as much as I did -- and I'm psyched for the winners to be announced in May.
If the CEW Awards put you in the mood to vote for some of
your
favorite products, check out our
Total Beauty Readers Choice Awards
. Voting is open through March.