Posted by Total Beauty 03/01/12 at 01:57PM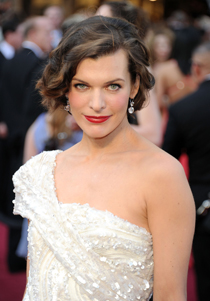 A slew of stars graced the red carpet in white at the Oscar's this year -- Gwyneth Paltrow, Jennifer Lopez, and Rooney Mara, to name a few -- but none of them pulled it off quite like Milla Jovovich. The actress and presenter held her own in a couture Elie Saab gown and retro, wavy hair, a look which caught the eye of Pravana celebrity stylist Sacha Quarles. While you may not be getting runway samples delivered to your door, here are Quarles' simple steps for recreating Jovovich's timeless hairstyle at home:
1. Start by applying a volumizing mousse to wet hair and blow out with a large round brush.
2. Heat up a 3/4-inch curling iron.
3. Apply a heat protectant, like
Pravana Keratin Fusion Thermal Insulator
, $15.29, to dry hair.
4. Choose which side you'd like to part the hair on.
5. Curl the hair in small sections; curl under, going away from the part toward the nape of the neck, down toward the ear in small sections.
6. Let the hair cool completely and rake through the style with fingers to gently separate the curls.
7. Adjust the hair into the shape that is the most flattering for you.
8. Finish with a medium hold hairspray, such as
Pravana Super Shape
, $14.49.