Posted by Total Beauty 02/29/12 at 03:21PM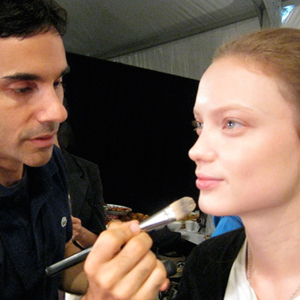 I saw more natural makeup backstage at New York Fashion Week than ever before, and while it wasn't especially bold or exciting, many of the looks were still really pretty in an "I wish my skin looked like that" kind of way. So when I was invited to a class with MAC makeup artist James Kaliardos (who somehow manages to do more shows than anyone else during Fashion Week), I jumped at the chance to learn his no-makeup makeup tricks.
"A lot of designers don't want any makeup," Kaliardos began. "So you have to make everyone look perfect -- but in a minimal way." To prep the skin, he applies moisturizer -- with a brush! This step is important, he says, because when you move on to step two (foundation) you use the same brush and the moisturizer helps the color appear more transparent on the face. After foundation, Kaliardos takes a slightly darker foundation shade and contours underneath the cheekbones, along the temples and sides of the forehead. And then he takes
MAC Cream Colour Base
in Pearl and dabs it on top of the cheekbones and browbones. Finally, he applies powder just to the T-zone. "You still want skin to look like skin," he says, "but in a picture with flash, you're going to need some powder."
The proof is in the runway photos: Every model Kaliardos worked on looked gorgeous. And the designers never have to know just how much makeup the girls were wearing to create that no-makeup effect.