Posted by Total Beauty 10/01/12 at 05:03PM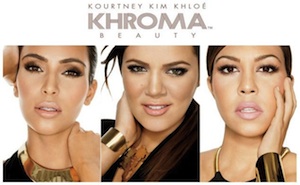 They've slapped their faces on plus-size jeans, fragrances, and nail polishes with huge profit, so it's only natural the Kardashian sisters would come out with their own cosmetics line.
In early November, the raven-haired reality TV stars are launching false eyelashes, mascara, and lip gloss along with other beauty products in their new collection, Khroma.
The sisters say they made the collection for fans that want to get the signature Kardashian look: doll-like lashes, dewy, sculpted skin, and glossy lips. Will you buy the Khroma line when it comes out?