Posted by Sarah Carrillo 02/08/13 at 03:33PM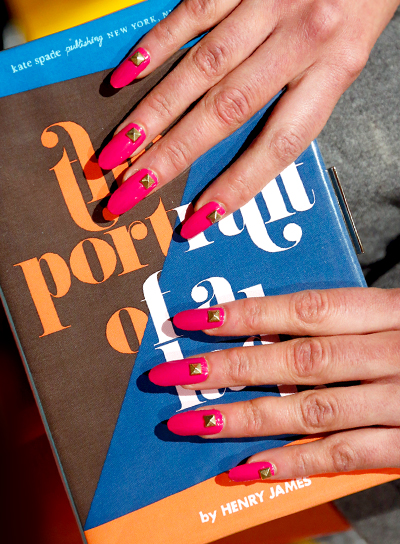 Every Fashion Week, we always eagerly anticipate what type of colorful goodies Kate Spade will whip up, and we're never disappointed. The designer's New York Fashion Week Fall 2013 collection was filled with juicy color, playful prints, and sparkling metallics. Kate Spade makes it pretty hard to choose just one favorite thing, but we are obsessing over these rocker chic nails created by Deborah Lippmann.

Also, we were totally fooled by this picture at first. It looks like the model is holding a copy of "The Portrait of a Lady" by Henry James, but it is actually a clutch! A Kate Spade Fashion Week show is always full of surprises.

This nail art look is glamorous, but it's also pretty simple. If you're not into the whole long, claw-like nail thing, then you can still recreate this look at home on shorter nails. Here's how to get the fresh-off-the-runway manicure in 4 steps:

1. Start with two base coats of Deborah Lippmann's opaque pure white in "Amazing Grace."
2. Let this dry completely, and then follow with one coat of Deborah Lippmann's hot pink "I Kissed a Girl." Let this dry.
3. Finish with a final layer of Deborah Lippmann's fuchsia in "Between the Sheets."
4. Once your nails are completely dry, apply a drop of nail glue to pyramid studs. Place each stud at the center of your nail, just above the cuticle. Press firmly and wait to dry.

*Note: You can buy these pyramid studs in packs at your local craft store or on Etsy.