Posted by Total Beauty 09/10/12 at 04:21PM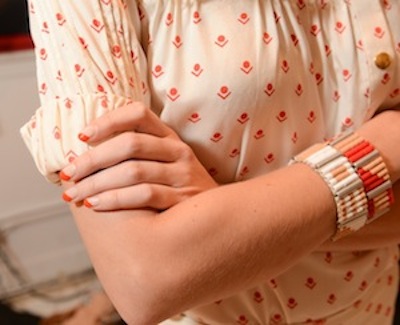 One of our favorite Fashion Week nail obsessions so far is from Lauren Moffatt's '60s country club-themed presentation. Models wore dresses in shades of honey yellow and mustard orange, looking as if they were straight out of a Wes Anderson film. The diagonal nails were inspired by the designer's quirky collection and created by OPI. We have a feeling we're going to see a lot more of these gorgeous diagonal nails that look like a slanted, slightly askew French manicure. Here's how to get the look:
1. Start with two coats of
OPI Don't Touch My Tutu
, $8, and let the basecoat dry completely.
2. Next, freehand a diagonal tip on each nail in
OPI A Roll in the Hague
, $8, for a pretty, dark orange diagonal.
3. If you don't have a steady freehand, try using a thin paintbrush for more accuracy.
4. Let dry and then finish with a clear topcoat.
Photo courtesy of Hannah Thompson.