Posted by Sarah Carrillo 09/10/12 at 12:00PM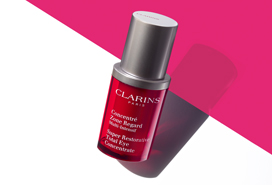 Not that we're big fans of naming our wrinkles, but this new term (which refers to the wrinkles that form around your eyes from squinting at a computer screen all day) was mentioned to us by a dermatologist and it sent us scrambling for a new eye cream.

And here's our current fave: Clarins Total Eye Concentrate, $82 for 0.53 oz. It uses the ingredient Pueraria Lobata, nicknamed the "forever young plant" (we like the sound of that), to target signs of aging like fine lines, dark circles, and puffiness. You can see results in just three weeks -- a boon for all of us who spend hours a day staring at a screen.

You can pick up the product now at Bloomingdale's and bloomingdales.com.