Posted by Total Beauty 11/29/12 at 03:08PM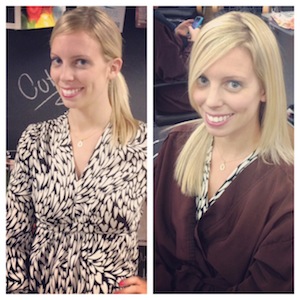 I'm a natural blonde, but I'm not quite as blonde as I would like to be, especially during the winter months. Ideally, I'd like to be "Gwyneth Paltrow at the Oscars" blonde, but I have to have a little help from the salon in order to get my hair Gwyneth-level blonde. So I visited celebrity hairstylist and renowned colorist Sherry Ratay at Salon Gavert Atelier in Beverly Hills for a much-needed color boost.

Ratay freshened my highlights, taking me from honey blonde to baby blonde. The slight change in color made a huge difference, leaving my hair looking healthier, shinier, and of course, blonder. Ratay also gave me her top three tips for keeping my color from fading fast during the winter:

1. Visit the salon for a glaze to brighten your highlights.
2. On very windy and freezing days during the winter, wrap your hair in a cute headscarf before stepping outside.
3. Saturate your hair from mid-length to tips with Minardi Pre-Wash, $35, and wrap your hair with a warm towel. Wait 10 minutes, and then cleanse with Minardi Wash, $19.