Posted by Total Beauty 11/30/12 at 12:41PM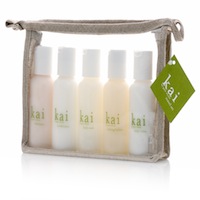 Raise your hand if you tend to over-pack. Not just clothes, I mean makeup, skin care essentials, and hair products. I'm definitely guilty of it -- especially during the holidays. But it's not my fault, I swear! It's virtually impossible to find a TSA-approved kit of skin and hair beauty items that can stand in for my normal arsenal of luxe products.

But that's not the case this year. Kai just released their first ever travel kit and oh, is it yummy. The intoxicating fragrance -- beloved by celebrities such as Jennifer Aniston, Reese Witherspoon, and Jennifer Garner -- can be found in a mini shampoo, conditioner, oil, body wash, body lotion, and bathing bubbles. Plus, the products aren't just your standard beauty essentials. Each one is enriched with vitamins A, C, and E and ingredients like argan oil, cucumber, and shea butter. So you won't just smell amazing, you'll by hydrated from head-to-toe. If you aren't stashing this for yourself (which trust us you should) it could also make a great gift for loved ones.

Kai travel set, $49, is now available at kaifragrance.com.