Posted by Total Beauty 09/17/12 at 03:42PM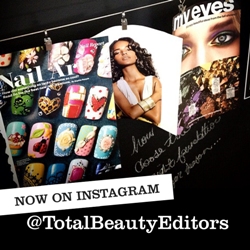 You probably get the latest beauty news from our
Facebook page
, see the best and worst product reviews via
@TotalBeauty twitter
, and check out the hottest hair and makeup trends on our
Pinterest page
, but now we've added one more way to keep you constantly updated. We're giving you a sneak peek at all the behind-the-scenes happenings here at Total Beauty HQ.
That's right! Follow TotalBeautyEditors and you will get to see all the newest products the moment they hit our desk. Not only that, but you'll also get to check out our Editors DIY experiments (zipper handbands, anyone?).
For daily updates from our NYC and LA team follow TotalBeautyEditors on Instagram. The more you double tap, the more we know what you'd like to see!