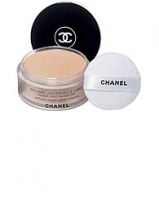 CHANEL POUDRE UNIVERSELLE LIBRE NATURAL FINISH LOOSE POWDER

I have this one in Peche Clair, which is a very light apricot colour. When I bought this, me and the saleswoman were debating whether I should get the Clair or the Peche Clair. While my skin is really fair, I have problems with redness around my nose. Plus I have to be careful with not looking too deadly. For foundation, I'm using Vitalumière in Clair right now-while I like its dewy look, you def...read moreinately need powder to set it. So we settled on the Peche Clair because it gave me a more "healthy" look. It's perfect with my foundation (which can sometimes be a tad too dark/yellow, but makes my skintone look super healthy), really perfects it. This combo photographs very well. The Poudre universelle libre seems to have sort of an airbrushing effect, I do not know how to describe it properly. It diffuses light in the most flattering way. The scent is light, almost non-detectable. BTW, I don't use the puff that comes with it. I use a powder brush. I brush it over my foundation, put on my blush and set my blush after that as well. This is the best loose powder I've used, ever. It's finely milled and sets your makeup like nothing else. It also lasts for a very long time - so no worries on price - if you use this regularly you'll get your money's worth. I use the translucent color - the others are too dark for my fair, cool-toned skin. Highly recommended. I usually use Chanel's double perfection powder but I wanted to try something a little lighter not as heavy (although i love the double perfection powder for going out) I just have to say that this is becoming my everyday powder. It's perfect, not too thick, not to thin. No shininess and it doesn't leave a chalky finish like other mineral powders. I think the price is a steal, it's 52 dollars but you get so much more, 3x more than the double perfection powder. The container that it comes in is so large, it really doesnt end up being much more expensive, if at all more, than competing brands. I've found my new love.

Magnifique!

I love this powder even if I do have to splurge on it. However, when thinking about the value of this powder and how much is in the gorgeous container, it seems to be very reasonably priced. The quality and scent of this powder is outstanding as well. This does not dry out my skin and covers every single imperfection!

Light, Airy, Wonderful Texture, Pricey

This is one of the most exquisite loose powders that I have tried. The texture is not too dry and leaves your face with a nice glow and a matte finish. However, I feel that the $50 charged for this item is way too much to pay for powder but I have not yet found another product that is comparable to this one.

Back
to top