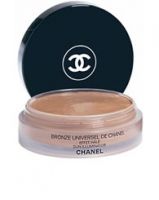 CHANEL BRONZE UNIVERSEL DE CHANEL SUN ILLUMINATOR

This was expensive, but definitely worth the money. You get a lot of product. In the summer, I will use concealer and this all over like a foundation. In the winter, I use this as bronzer/contour colour. It goes on very smoothly. Unlike all other cream products I have tried in the past, this does not accentuate the acne scarring on my cheeks. In fact, it makes my skin appear more smooth. After a y...read moreear of use nearly every day, I have hit pan. I apply this with a powder brush. I have no problems with this fading throughout the day. The colour is extremely natural and makes me look tan. This is not a product that makes your skin feel sticky either. I have no problems wearing it when I am on vacation somewhere warm. It gives your skin the tiniest glow, not shiny, not sparkly, but more of a smooth healthy skin glow. In photographs, it makes you look like you have perfect, smooth skin. This product has an amazing smell as well. I usually do not like my face products having a scent but I don't mind this one! I haven't had any issues with this product drying out. I do keep the inner lid though. My one problem is that the jar (although pretty) is too large for travel. I can not imagine actually finishing this giant tub of product, but when I do, I fully expect to repurchase this gem! I really think this is one of the very best bronzer out there. I generally tend to think any alternative powder product has more fall out and less lasting power than this silicone-based one. Bronze Universel really lasts and provides a really warm and natural looking color to the skin. I like it when I am winter pale to just warm up the skin and also love it to enhance my skin when it is already slightly dark. I like how I am able to build up the intensity or leave it fairly faint to just punch up a sallow light skin. There is no shimmer to this product, so if you are looking to build a very natural color, this would be an excellent product to try out! I can only think of two reasons someone would not like this product: they are too pale for the one shade (or perhaps too dark)...or they are applying it completely wrong. Sometimes if I'm too heavy-handed with this stuff it can end up looking muddy and mask-like, but if you use the correct brush and apply it correctly it gives a very natural, glowing tan. It's subtle, again if you use a light hand and don't jam your brush into the jar, but gives a good glow without being a tan glitter bomb or a muddy matte mess. Also I think it would be great for girls who go without foundation - just to give a little glow to tired looking skin. Sadly I am not one of those girls...but it would look beautiful on bare skin. Be careful when purchasing this at the store because I lot of Chanel counter girls (especially at Macy's) have no idea what this product even is and may claim they don't have it when, in fact, they do and it's right there in the case.

A_M_A_Z_I_N_G!

This product is raved about so much in youtube by the gurus! After 2 years of hearing over and over it about it I decided to go ahead and spend 50 dollars on it! I must say that it is definitely worth the price. The shade is beautiful, not orange and artificial looking. very natural, build able and bleandable! The most important part, it didn't break me out or clog any of my pores. It is for all s...read morekin types. The only bad part is that there is only one shade. It is only for light to medium skin tones.

Sunkissed or Deep Dark Tan

I am a medien toned AAW. This is remarkable because it blends in so well that I even have that sunkissed look. this is hard to achieve on dark brown skin due to the depth of the skin tone.. I love this stuff and it packs well, not a liquid so it can get on the plane with you...

Back
to top