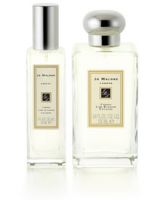 My favorite

This is my favorite of Jo Malone's fragrances. I think the scent is spot on and it is just a soft fresh floral. My sister introduced me to this line and haven't looked back yet. I don't think you will regret this if you buy it. I don't even wear department store fragrances anymore because they don't compare. They used to only be sold at Neiman Markus and Saks, but now they have it at select Nordstroms so it is easier to find if you want to smell the collection before buying.

Jo Malone

This stuff smells Wonderful!

Love Jo Malone!

I have an extensive perfume collection and most of the Jo Malone colognes. This cologne brings to mind memories of springtime and fresh blossoms. I will be honest, it's not one of my favorites. Compared to her other scents, this one seems to have too much hint of Lime for a 10 star review. It could be that it's just not my cup of tea. I highly recommend all Jo Malone colognes. Wear them individually or have fun experimenting with layering them!

Back
to top