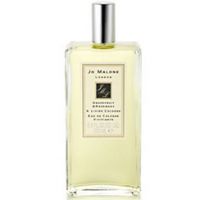 Editor's Rating & Review
Eighteen scents -- and more on the horizon -- make up this delightful collection of unique, light fragrances that you can wear alone or layered over one another. Floral lovers will enjoy the ever-popular Orange Blossom -- and some might find the Nectarine Blossom and Honey too "teen-like." The 100 mL bottle costs $95 (not cheap), but the 30 mL costs just $50, and unless you bathe in the stuff, you shouldn't run out for several months. The only fault is that it's not widely available. But one sniff of anything in the line and you'll commit to the hunt.
Reviewed by the Total Beauty editorial team on 09/24/2007

How we review products
Exotic Sprays

These fragrances smell so nice and are a great exotic mix of fruits and herbs. I love the sweet smelling fruit mixed with the herbs for a great scent. The scents last a long time and are very unique. These are very floral and give you a great scent.

excellent

i just like it..all i can say!

Jo Malone is my best kept secret!

I personally have not tried the Grapefruit & Rosemary Living, but have used Jo Malone products for years. I will try this scent the next time I frequent Jo Malone. My signature scent is the Nectarine Blossom and Honey. I always get so many compliments on it. I have ventured to other Jo Malone fragrances but always keep a botle of the Nectarine handy. This fragrance is my best kept secret. But...read more keep in mind, the notes smell differently on everyone. You have to find the one that mixes with your phermones the best. I bought a few bottles for my boyfriend and he gets so many complkiments by both men and women because the scents are so unique. Only true fragance conisseurs can appreciate a line like this one.

Back
to top