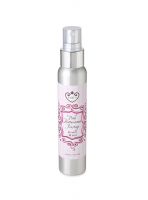 yum

you know its funny how many people are hating this! i love it, it smells just like it says, and to me, its like birthday cake all the way! i have a ltion like this too, and i used to put it on at work, and people [especially guys!!] would come by looking for the yummy food they smelled, only to find it wasn't real food! disapointment! to me the only really bad thing is you cant eat it!

Smells Good Enough to Eat!!

Obviously fragrances are very personal. Apparently Katmagick didn't like the vanilla notes in the Jaqua Buttercream Frosting body spray. I understand, I have the same aversion to many floral fragrances which I tend to find overbearing. However, the Buttercream and Raspberry Buttercream fragrances are my personal favorites. They're not overpowering, but warm and sweet. I'll also confirm what Corizo...read moretti said that men love it as well!! :-) To top it off, Jaqua has made this mist even more natural. The product is now gluten, vegan, and cruelty free and contains 90% organic ingredients so I feel good about using it.

If You Like To Smell Like Cake...

Buy this if you like smelling exactly like a piece of cake. Yes, it does smell good- but oddly like real food.

Back
to top