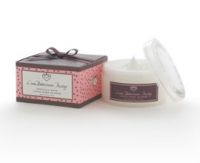 Scent so perfect you'll be tempted to eat it!

This moisturizing body moisturizer is amazing! The got the fragrance so perfectly like buttercream frosting that you really will be tempted to dive in and eat it! The texture is so luxurious. It's a super thick and creamy body butter, but surprisingly it doesn't leave your skin all greasy and tacky. You only need a very small amount of this rich cream. It's super hydrating and when I use it n...read moreight before bed, my skin feels so transformed in the morning! I'm left with soft, hydrated, comfortable skin. It's the perfect foot cream, softening hard, rough spots in just a few uses, depending on how bad you've treated and how rough your little tootsies are. The scent disapates over night, so if you are a night time showerer and then apply this cream, the fragrance won't compete with your perfume the next morning. But if you apply this cream in the morning, it will definately compete with a fragrance you try to apply over it. But it smells so good on it's own, I sometimes use it in the morning and skip perfume all together. Trust me, you'll get tons of compliments on how good you smell!! It's butter cream frosting, so of course it's got a sweet scent, but some how Jaqua was able to balance the sugary scent with vanilla so that it's not at all sickening sweet. It's something you just have to experience!!

Can you say Yummy!!

I love the smell! Great Body Butter!

To die for!

I am a self professed beauty junkie and I rarely buy body creams more than once. I mean, there are alot of fish in the sea- so many body moisturizers, so little time. But this one has inspired my loyalty. If you like food-based scents then you'll love this one. I also am in love with the velvety texture and moisturizing quality. Fab!!!

Back
to top