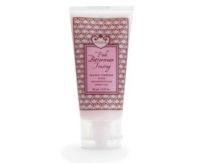 Best hand creme ever

I haven't seen it around in a long time :-(, but all of Jaqua's hand cremes smell delectable to the highest degree, sink in immediately, and beautify your hands beyond any belief. The scents are very strong, but I adore strong fragrances and as you use your hands during the day, whether shuffling papers, tarot cards, or using your hands in conversation, the scents fill the air and make you smile.

Jaqua Raspberry Buttercream Frosting Hand cream

The fact that there is so much dye in this hand cream that it tints your hands pink negates anything good that could be said about it.

Love This Hand Creme! Can't live Without it

I love this hand creme, I bought it directly from their site Jaquabathandbody and I love it. I also love the new Body Mist and Luscious Hand and Body Lotion as well! Yummy!!!

Back
to top