The VIP (Very Impressive Product) Pick of the Week #47

Posted 05/18/12 at 05:53AM by Audrey Fine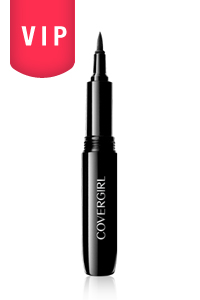 The Product
:
COVERGIRL LineBlast 24 Hour Eyeliner
The Price
: $7.99
The Company Spiel
: "Our long-lasting liquid liner formula will get you noticed hour after hour. Creates precise lines from bold to fine. Suitable for sensitive eyes."
The Real Deal
: When it comes to applying makeup -- specifically eyeshadows and liner -- I am all thumbs. Umpteen years of knowing I'm no good in the application department hasn't stopped me from trying though; I've just spent an awfully long time with wobbly, ill-drawn lines across my top lids. Not anymore. With the advent of this clever felt tip pen, COVERGIRL has come to my rescue. Sure, other brands make felt-tipped pens, but the ones I've tried are
skinny
. This LineBlast pen is chubby and sits much more comfily in my hand, allowing me to draw lines much more steadily. The result? I no longer look like a kid who's happened upon mom's makeup bag.
The Upshot
: May sound silly but the size of this pen makes all the difference to me. Well, that, plus the fact that the staying power of the liner is really incredible. I don't really
need
it to stay put for an entire 24 hours, but having the peace of mind that it won't run and give me raccoon eyes by lunch time works for me!
See last week's pick for V.I.P.
here
.

Our Expert Guides