The 5 Best Anti-Aging Skin Care Tips I've Ever Heard

Posted 05/22/12 at 05:15AM by Audrey Fine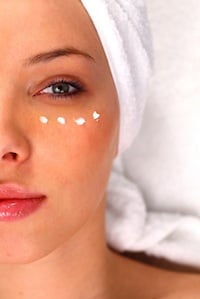 Even though I'm a beauty editor, I'll be the first to admit that when it comes to adopting an effective anti-aging skin care routine, things can get very, very confusing. There are so many products to choose from, too many ingredients to consider, and even more conflicting opinions on what to do (and what to avoid) that it can make any girl goofy.
To help myself make heads or tails of the correct path as I move farther away from ingénue status with each passing moment, I've talked to umpteen experts and corralled the following five steps that should be taken to keep skin looking as young as possible.
Here they are:
Step 1: Choose the right cleanser
Cleansing your skin twice a day, especially at night to remove makeup and daily schmutz, is an extremely important step in your anti-aging routine. But, you also need to pick the
right
cleanser. Don't be bamboozled into buying expensive cleansers that are packed with vitamins and other tantalizing ingredients, because they get rinsed off your face and wash down the drain before having a chance to absorb into your skin. The only things you need to consider when choosing a cleanser are whether it's gentle but powerful enough to rid your skin of dirt, oil, and makeup without irritating it or stripping away natural oils.
Step 2: Apply sunblock and antioxidants
I've said this (and you've read it) 'til the cows come home but ... if you haven't been applying SPF
and
antioxidants every single, solitary morning, it's time to start. Those bad-boy UV rays are the number one cause of aging skin, so fight back by applying an antioxidant treatment (to fight free radicals and make your SPF even more effective), and then slather on a broad-spectrum sunblock that has an SPF of 15 or higher.
Step 3: Moisturize
Continual cleansing of the skin, exposure to various pollutants, and even your makeup can all take a toll on your skin by drying it out and rendering it less supple and more likely to sag and wrinkle. Prevent this by moisturizing your skin daily,
even
if it's oily (look for a gel-based or oil-free moisturizer). Moisturizing not only helps to hydrate the skin, but it also provides a helpful protective barrier.
Step 4: Use an anti-aging treatment
It's never too early to start using anti-aging products (hence the name) -- and the sooner you start, the more you're preventing wrinkles and age spots from forming in the first place (and the less time you'll spend desperately trying to make them disappear). Retinoids, like retinol and tretinoin, are your friend. They are topical forms of vitamin A that are scientifically proven to smooth fine lines and help reverse sun damage. They should be applied only at night, before moisturizing, because they can make skin more sensitive to the sun. But trust me -- they work wonders while you get your beauty rest.
Step 5: Exfoliate
Embrace exfoliation and incorporate it into your routine. Ridding your complexion of the dead skin cells and oil that have accumulated will help your products absorb properly and enable them to be as effective as possible. You have three exfoliant options: choose a product containing fine exfoliating beads or other particles that gently remove dead skin cells; use a chemical exfoliant in the form of a toner, gel, or lotion that dissolves the dead cells; or you can use a cleansing brush like the
Olay Professional Pro-X Advanced Cleansing System
, $30.
So, there you have it. Your anti-aging skin care regimen decoded and ready to be followed. Oh, and if you want a few more tips in the sunscreen department,
click here to see the answers Rebekah George has gleaned from various pros
.

Our Expert Guides