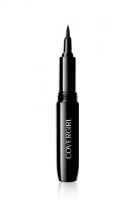 didn't work for me

this product was easy to use, but it didn't stay on for 15 minutes. it could be due to the fact that i use jojoba oil as a cleanser and moisturizer because of my allergies. i haven't been able to find a liner that works for me, and i will be returning this one.

almost perfect

The felt tip is stiff enough to line between eyelashes without being too stiff that it hurts. However the pointy tip is not precise enough to make a perfect winged out look. I have oily lids and this liner truely stayed on all day without smudging. I like using this when I put on fake lashes and need to fill in the gaps.

Review subject

worked great like 2 days ago, but now its starting to act like its running out of ink. i think its "ok" but not perfect, when it was working, it did good on my lashline cause i have shaky hands, u got to keep on shaking it thought to get some ink to exude on the felt tip, thats the other thing i like it the felt tip cause its precise and u cant screw up on ure cats eye look or anything.

Back
to top