Expert Q&A: How to Get Healthy, Shiny Hair by Winter

Posted 10/07/11 at 06:01PM by Audrey Fine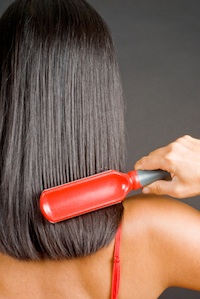 Our never-ending pursuit of shiny, healthy, shampoo commercial-worthy hair reaches a fever pitch every fall when we're left to contend with the damage that a summer's worth of neglect and indulgence has inflicted on our follicles.
If you're resolved to get your hair back into great shape, you've come to the right place. Celeb hairstylist, Michael Dueñas (the brainchild behind the ingenious Hair Room Service, a company that will dispatch a stylist to your house) has taken time out of his busy schedule to respond to questions Total Beauty readers submitted on Facebook last month.
Are you ready to show your hair who's boss? Let's check out what Dueñas suggests ...
Q: My processed blonde hair is fried from a summer of swimming and fun in the sun. Is it a good idea to dye it a warmer shade for fall to help mask the damage?
A
: Dueñas says that, "Coloring your hair darker will make a big difference in your hair's sheen and overall health. If you were to lighten hair that's endured damage from the sun, sea, and chlorine, that would cause even more breakage and harm to the hair." Once you have your new, warmer shade, keep it well conditioned with a color specific product like
Clairol Nice 'N Easy Colorseal Weekly Conditioning Gloss
, $4.
(Psst. Want to know which shades are hot as can be this fall? Click
here to check them out
.)
Q: I've resolved to do all I can to get my hair healthy and shiny this fall. What plan of attack can you share?
A:
"If you are coloring your hair, try to use a semi-permanent or a demi-permanent product," suggests Dueñas, who adds that "you cover your new color with a high sheen gloss after the service for super-shiny hair." He also recommends using shampoos that are specifically formulated for color-treated hair. (Try
Pantene Pro-V Color Hair Solutions Color Preserve Shine Shampoo
, $5.) Dueñas hint: For maximum shine, use a deep conditioner that's rich in omega oils. (Try
Iden Omega 3 Conditioner
, $23.)
Q: When the weather gets cooler, I feel like I don't need to shampoo as often. Does that make sense? And how many times a week should I wash my hair?
A:
"That
does
make sense," says Dueñas. "Your body won't be producing as many oils from your sebaceous glands as it does in the summer, so your hair will not feel as dirty and/or greasy. Even in the summer, I recommend not to wash your hair more than twice a week. Those oils are essential to add shine and moisture to your hair. When winter hits full force, those heaters in your car, house, and office will suck the life out of your hair. Leaving in natural oils will build up strength and resistance to those drying heaters."

Our Expert Guides