My Last Minute (Totally Easy) Halloween Costume Idea

Posted 10/27/10 at 03:52PM by Audrey Fine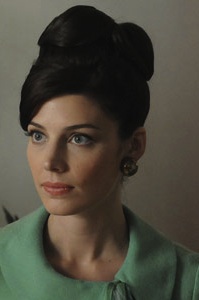 I'm not a big fan of Halloween. Call me a stick in the mud, but I think that it's just an excuse for most women to dress slutty. Not that there's anything wrong with that necessarily, but I don't think you should have to hide behind a holiday to get your inner sex kitten on.
That said, every October I find myself trying to dodge the costume bullet. Sorry, but I don't
want
to dress up like Bella Swan, or the angry flight attendant or, God forbid, Snooki. I'm really not a party-pooper and am happy to make my kids' costumes (from
scratch
, thank you very much) but I'm just not down with donning some yutzy thing myself.
Unfortunately, I also happen to be married to one of those guys who
lives
for Halloween. (I'm convinced that it's
his
fault that Target puts their decorations out in August.) And, because of this unfortunate irony, I'm usually forced to dress up -- whether I like it or not. Woo-hoo.
So, this year, I've taken a "if you can't beat 'em, join 'em" approach and have decided to dress up -- but there's a wrinkle. I'm going to be someone who wears normal clothes, has a respectable hairstyle and uses pretty makeup. In short, I'm going as the soon-to-be-Mrs. Donald Draper (his current secretary) -- "Mad Men's" Megan.
Sure, I could try and morph into the beautifully buxom Joan Holloway with her awesome
winged eye makeup look
, but, alas, my figure is more Twiggy than Joanie, so, Megan Calvet it is.
I have a Jackie O-ish, vintage Chanel suit that, by some stroke of incredible luck/timing, I scored from a thrift shop years ago, which will be just perfect. And, this week I found a great little pillbox hat at the Goodwill which, when paired with some faux pearls and a pair of kitten heels, will complete the ensemble.
For my makeup, I'm going to attempt to replicate Jessica Pare's doe-eyed look using
CoverGirl LashBlast Length Mascara
, $7.79 to get my lashes as long as possible. I'll use my eyelash curler first, then apply 2-3 coats, being sure to wait at least a minute between each.
And, then I'll definitely darken my brows with
CoverGirl Brow & Eyemakers Pencil
, $3.99 all the while wishing I had her beautiful high arches.
On my face, I'll use
CoverGirl Cheekers Blush in Pretty Peach
, $4 because, as "Mad Men's" head makeup artist, Lana Horochowski explains on AMCTV.com, the "look of that period was very peaches and cream and very matte. There were no blue undertones and no iridescent powders."
Ditto then for the lipstick I'll choose. I'm looking at
CoverGirl Continuous Color Lipstick in
Warm Brick
, $5 and, taking pointers from Horochowski, will apply it in a rounded bow shape since the "younger" women of the '60s began to break away from the pointed bows of the 1940s favored by the older women.
And, no, snarky "Mad Men" fans among you, I won't be wearing any prosthetic teeth. I think Jessica's gorgeous just the way she is.
How bout you guys? What craziness do you have in store for the first holiday of the season? 'Fess up. I want to hear from all you wannabe Gagas out there!
Not sure what you'll go as yet? Scope out these
costume ideas
that don't involve witches or SpongeBob.
Or if you're snubbing the holiday, stay in and master the art of recreating
Kim Kardashian's makeup look
. Or
Gwen Stefani's
. Or finally
learn how to curl your hair with the pin curl technique.

Our Expert Guides