Why I'm Rocking a Nude Lip When Everyone Else is Going Bold

Posted 10/26/10 at 03:38PM by Total Beauty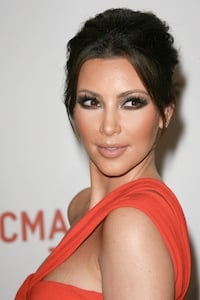 This fall, while every magazine is touting the virtues of the red, purple or orange (really?) lip, I'm turning the other cheek.
Sorry, but I just can't do bright lips. Maybe it's the prospect of walking around clueless with smudges on my teeth. Or maybe I'm just not secure enough to pull it off without feeling like Bozo. But, whatever the reason, I'm sticking with my nude lip look, period. End of discussion.
Before you scoff and tell me to grow up and get with the program, I'd like to say two words. Kim Kardashian.
Now, I'm not typically a fan of these famous-for-not-much "celebrities" (wait, that's not fair, she
did
make a sex tape), but while everyone talks ad nauseum about her booty, her smoky eyes and her, snore, love life, I'd like to point out that her mastery of the nude lip is sorely overlooked. Of course, she's probably not the one who's responsible for it -- the credit more than likely goes to some Tinseltown makeup maestro -- but, Kim K.
does
rock the heck out of it.
If you Google "Kim Kardashian nude lip," you'll learn that the lip products she always has in her bag are, "
MAC Lip Liner in Stripdown
, $13 with
MAC Lipstick in Angel
, $14 and
Nars Lip Gloss in Turkish Delight
, $24."
While, I too, have used (and liked) Angel, this fall I'm loving
Estee Lauder Pure Color Crystal Lipstick in Crystal Beige
, $22. It's wonderfully shiny and the shade is perfect for a nude lip -- not too pink, not too tan -- just right. Plus, it glides on effortlessly and stays put.
And, while I don't line my lips like Kim does, I do follow one simple trick that I'm sure she does too -- always dab a bit of gloss into the center of your lips. Sounds weird, but it totally adds dimension to your mouth and keeps the look from being too drab or washed out.
But, hey, that's just me. The rest of y'all can have your crimson and ochre and ruby and whatever other shades float your boat. Kim and I will stick with what works for us.

Our Expert Guides