Is Katie Holmes Channeling Her Inner Sex Kitten or What? Weigh In

Posted 12/14/10 at 04:47PM by Audrey Fine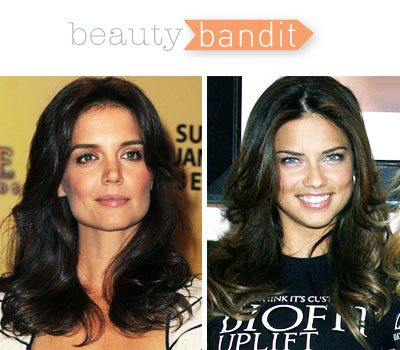 Maybe we're losers, but my best friend Lynn and I live for award show nominations. We set our clocks to be sure that we'll be up (and online) in time to watch some star and starlet make or break various celebrities' day. Honestly, you'd think
we
were up for some statue the way we get so invested in it all.
So, this morning at 5 AM we were up and bright-eyed when Josh Duhamel, Blair Underwood and Katie Holmes took to the stage at the Beverly Hills Hotel to announce the nominees of the 2011 Golden Globe Awards. And, let's just say that minutes into it, we were shocked. And not by who was snubbed (hello Leo, Julia and Jeff Bridges.) Read our IM exchange to see why...
Me:
God, Josh is hot.
Lynn:
Yeah, Blair's not too bad either.
Me:
Totally. Wait. Is
that
Katie Holmes? As in Joey Potter Katie Holmes?
Lynn:
Whoa, yea, it is! Her hair is so...so...so not in her "Chicago" bob or Jackie O. style anymore.
Me:
Lol. Right? Wow, she looks like Sofia Vergara. Maybe she and Tom sit at home on Wednesday nights like we do and watch "Modern Family."
Lynn:
Ha! I can just picture that. Pass the popcorn, Tommy. Seriously though, she's like a little sex kitten -- wait! It's not Sofia, it's that Victoria's Secret girl. What's her name??? You know, not Alessandra Ambrosio but that other one who's engaged to the hockey player guy? Um...
Me:
Oooo, you mean Adriana Lima?
Lynn:
YES! Her! Same exact hair. It's so Jaclyn Smith.
Me:
SO! Now all we need is for Katie to strap on some wings and strut down the catwalk.
Lynn:
Hee. Can you just imagine how Tom would take
that
?
Me:
Definite couch-jumping fodder there. Which would be the
perfect
way to end "Oprah's" final season.
Lynn:
Ha-ha. So true.
Then we switched back to talking about how cute Josh Duhamel is and how sad we are that
Scarlett Johansson and Ryan Reynolds are calling it quits
. Then the kids came in and it was back to reality.
So...what do you think? Can Mrs. Cruise rock that sexy style or is she better suited to more classic, buttoned-up looks? And, speaking of thought provoking hairstyles, what do you think of
Nicole Scherzinger's interesting ponytail
?
And, if you think that there are a lot of stars who could use a new look, take a look at these
hairstyle makeovers
-- they're pretty awesome.

Our Expert Guides