Love it Or Leave it? Nicole Scherzinger's Ponytail with Rolled Up Sides

Posted 11/29/10 at 03:29PM by Audrey Fine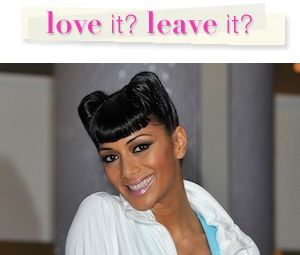 Nicole Scherzinger, the noted frontwoman of the original cast of the Pussycat Dolls, was in a London shopping mall today to launch Reebok's new ZigTech Trainers in Great Britain.
The sneakers, whose soles are wavy and purported to better cushion the body from the impact of running, are definitely cutting edge so maybe the "Dancing with the Stars" winner was thinking thematically when she decided to wear the futuristic hairstyle pictured at left.
The style -- a sort of ponytail with retro roll-like swooshes on the sides of her head -- definitely garnered some attention but, since swooshes are Nike's emblem, maybe another look would've been more appropriate?
What do you think of the 'do? Would you copy it? Or would you rather try
Jessica Alba's sexy/messy style or Nicole Richie's ballerina bun
?

Our Expert Guides