How I Got Over My (Irrational) Fear of Eyeliner

Posted 03/02/12 at 09:52AM by Audrey Fine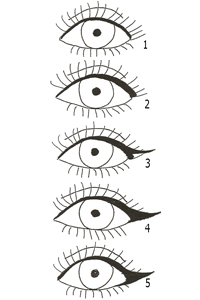 You know how there are those girls who seem to have an innate talent for pulling off the latest hair and makeup looks? Those who appear to effortlessly adapt cool waterfall braids or modern eyeliner applications with the greatest of ease? Yeah, well, I'm not one of them.
I'm the chick who's been wearing the same lame "very black" mascara since 1992 and whose idea of "daring" makeup involves a swipe of lipstick that has some pigment in it.
In fact, after umpteen years in the beauty biz, it took reading my colleague, Sharon Yi's recent story, "How to Apply Eyeliner: 10 Looks for Beginners and Pros" to get me motivated to
finally
venture to try a new look.
I went with the "winged" tip because I find the style at once daring and classic and took a leap of faith.
I followed her application tips (below) and was shocked by the results. Not only do I look like I
have
eyes when they're highlighted by these "wings," but they somehow light up my entire face. Who knew?
Want to try, too? Here's what you have to do:
Arm yourself with a good, smudge proof eyeliner like
Shiseido the Makeup Accentuation Cream Eyeliner
, $26, or
COVERGIRL Liquiline Blast Eyeliner
, $9, and apply it to the outer edges of your upper lashline making sure that your line is at a 45-degree angle from the outer corner of your eye.
Not too confident in your drawing abilities? Draw the wings with eyeshadow first, then color them in with the liner -- the shadow's much easier to "erase" than the liner.
And, there, you'll have it. Easy, beautiful, "notice me" eyes, that (clearly) anyone can do.
I'm feeling so good that I might even dare to try some of these pretty
metallic looks
!

Our Expert Guides