How to Choose the Right Mascara For Your Mood

Posted 03/19/12 at 04:44PM by Total Beauty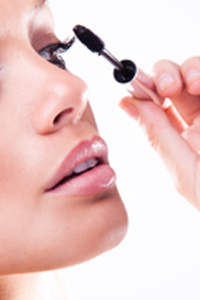 I'll go ahead and admit it: I'm a mascara hoarder. Of all the products I receive for work, mascara is one of the few things I just won't give away -- no matter how many extra tubes I have stashed in my medicine cabinet.
You're probably imagining that I wear obscene amounts of the stuff -- my lashes are so weighed down that I can barely open my eyes. But that couldn't be further from the truth -- I simply like having a lot of options. While my makeup routine is seriously boring (basically the same look, every single day), I like to mix up my mascara depending on my mood. Yup, that's about as adventurous as I get! Here's how I categorize my favorite lash lacquers:
Sexy:
If I'm in a flirty mood, I want my lashes to be long, full, and jet-black. I make sure to wiggle the brush down by the roots to highlight the lash line, and then I apply a few extra coats. My go-to is
CoverGirl Lashblast Luxe Mascara
, $8.99, which has a jumbo brush and a hint of shimmer in the formula.
Classic:
If I'm running around to meetings and work events, I want my lashes to look pretty -- but I don't want them to be a distraction. Since they're naturally pretty long but not super-full, I'll wear two coats of a volumizing mascara like
Dolce & Gabbana Volumized Lashes
, $29.
Minimalist:
On the weekends, I generally skip eyeliner and opt for natural-looking lashes. My favorite is
Eyeko Skinny Brush Mascara Long & Tall
, $19. It has an unusual brush with extremely short bristles that lets you basically paint individual lashes. I concentrate the mascara just on the outer corners for that subtle, "I'm awake" effect.
How do you decide which mascara to wear? Or do you wear the same one every day?

Our Expert Guides