4 Beauty Essentials for Your Spring Showers

Posted 03/20/12 at 12:32PM by Rebekah George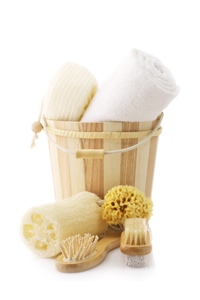 Spring is just about to bloom, which means one thing for me: Cleaning! This time of year, I love to give my home a pretty refresh (and a good scrub-down), and I go to town on my closet, swapping out those sweaters and wool dresses for tank tops and even a sundress or two. And I don't stop there.
One of my favorite to-dos in my spring cleaning ritual is to take a look at my beauty products, figuring out what I should toss, what I should keep, and what I should add to my routine to help me deal with different skin and hair dilemmas that come along with the new season. Here are the four new products I'm adding to my shower caddy today:
To deal with my dry skin ...
Olay Total Effects 7-in-1 Advanced Anti-Aging Body Wash
, $7
Even though it's getting warmer outside, my skin still tends to get dry and a little scaly. This body wash cleanses and exfoliates, plus it has ingredients that help brighten the skin -- a perfect pick now that I'm finally starting to
show
a little skin again.
To keep my legs smooth ...
Gillette Venus & Olay Razor
, $8.99
Full disclosure: During the cold winter months, I get a little lazy about shaving. But come spring, I am as serious about shaving as I am about sample-sale shopping, which means daily (and sometimes twice daily) shaves. This razor has 5-blades
and
contains Olay skin enhancers in a moisturizing strip, so it helps to smooth and soften skin as it gives you a close shave.
To tone down brassiness ...
Rita Hazan Foaming Gloss
, $26
Is it just me, or does your hair also get brassier than a high school marching band during warmer months? That's because the increased sun exposure breaks down your hair color, causing that nasty, brassy effect. I've found that what helps this hair dilemma most is using a weekly gloss to tone and preserve color, like this one created by celeb colorist Rita Hazaan (her roster of A-list clients include J. Lo and Jessica Simpson). It's so easy to use: Simply put it on when you get in the shower, leave it on while you shave your legs, then rinse.
To combat frizz ...
Pantene Pro-V Nature Fusion Shampoo
&
Conditioner
, $6 each
I am a big believer that smooth hair starts in the shower. When I get my shampoo and conditioner right, it helps me prevent frizz from happening in the first place -- and this duo definitely qualifies. I like that these products aren't loaded with natural ingredients, like avocado, bamboo, and grapeseed, which keep hair manageable when the humidity rises.
How else are
you
getting your beauty life in shape for spring? Fill me in ... and if you need some inspiration, check out
these trendy new hairstyles
, perfect for spring.

Our Expert Guides