We'll Never See "Ugly Betty" Get Her Much-Needed Makeover

Posted by Anna on January 27, 2010 at 08:05PM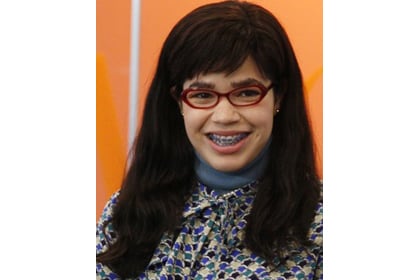 My favorite beauty-challenged babe just got the boot. Tear.
After three extremely popular seasons, ABC has canceled Emmy award-winning show "Ugly Betty", making this season its last. The show, based on the Columbian version "Betty la Fea," taught young less-than-perfect ladies across the nation to relax and embrace their natural beauty. But lets be honest, it also made us want to give her a serious makeover. Sorry, I just had to say it.
Since 2006 I have loved Betty's quirky antics and the mad-happenings of the fictional Mode Magazine, which made me laugh, cry and love America Ferrera (seen here in a classy, so not "Betty" updo).
I also secretly loved seeing Ferrera transform into and out of her "Ugly Betty" character. If you need to get your "before" and "after" fix post this final season, these drastic celebrity transformations should fill your needs until ABC finds a replacement show for the "Ugly Betty" time spot.
Do you need an "Ugly Betty" makeover too? See easy ways to tweak your look here.