The Best Products for Defeating Dandruff (According to Unbiased Readers)

Posted by Kristen on January 29, 2010 at 07:48AM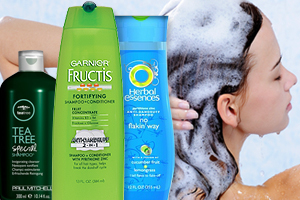 I have dandruff. There I said it. (And, that's a big step for me.)
Ok, ok so it's not the end of the world and, yeah, it's a super-common condition, but the whole thing just sort of freaks me out. Plus, I have a problem with letting some pesky little flakes dictate my wardrobe. I will wear black when I want to -- got that??
The good news for me and my fellow itchy-heads is that science has come a long way in recent years and there are plenty of shampoos, conditioners and even brushes (!) to help us tame the flaky white beast.
In fact, there's such a glut of product out there that figuring out what works and what doesn't can be more aggravating than the dandruff itself! (Eh, maybe not). So, to hone in on the best of what's available, TotalBeauty.com decided to do the only sensible thing and ask readers to weigh in on their favorites.
If you, too, are fighting the good fight against the flakes and itchies, check out which products TotalBeauty.com readers say work best.
This yummy smelling shampoo earned an average reader rating of 8.5. Why? Because, when it comes to controlling dandruff, this "gentle and effective" shampoo will do the job and "give your hair fullness." "Not only did it rehydrate my scalp but I always got compliments on how wonderful my hair felt and looked," says one reader. See what more readers had to say about this shampoo.
This shampoo boasts more than its really fun name and earned an average reader rating of 8.6 due to the fact that, according to one reader, it "gets rid of the itch while making the hair soft and manageable with lots of body." Another says; "It does a good job of cleaning your hair without stripping it too harshly and leaves it nice and shiny." Read more user reviews of this shampoo.
The brand synonymous with the condition received an average reader rating of 8.8 because it's a miracle worker for those with severe scalp issues. One reader with dandruff so bad, [her] scalp would "almost come off in chunks" says, "I have been using this for about 2 months now and I am completely dandruff free!" Others concur. Read what they had to say.
• Don't have dandruff, but aren't sure what kind of shampoo and conditioner to use? Take the quiz and find out once and for all!
• Have horrible hair? Maybe you live in one of the worst hair cities in America!
• How healthy is your hair? Find out -- if you dare.