Foods that Actually Make Teeth Whiter

Posted by Sarah on August 2, 2011 at 05:19PM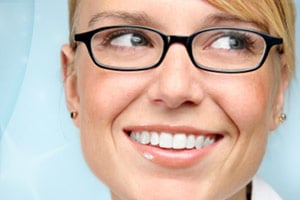 I thought I had a pretty good handle on this whole teeth-whitening thing. I wrote about the best and worst teeth whiteners here, and I know which foods and drinks are extra stain-inducing (coffee, soda, red wine -- aka all the drinks I love most). But now I'm learning that there are foods you can eat that not only won't stain your teeth, they'll actually make them whiter! Um, can you say, "excited?"
Dr. Timothy Chase, a cosmetic dentist at SmilesNY in New York City assures me it's true. "Professional dentistry works the best, however, certain fruits and vegetables can aid in the quest for white teeth."
In case you needed more motivation to start chowing down on the foods he recommends, Chase says, "a healthy smile, white teeth, and healthy gums can take 10 years off your appearance."
OK, I won't make you wait any longer. Here's Chase's list of the top teeth-whitening foods.
Group 1: The crunchies
"Certain foods help to remove bacteria that cause plaque, which hardens into a yellowish tartar if not brushed away soon enough. Crunchy fruits and vegetables work best because they function as an abrasive scrub for your teeth. They also stimulate the production of saliva, which helps to keep plaque from forming," Chase says.
Add these to your grocery shopping list:
• Apples
• Cauliflower
• Carrots
• Celery
Group 2: The polishers
• "Strawberries and oranges are both useful for polishing teeth. Rubbing an orange peel or a strawberry over your teeth, followed by washing out your mouth with water, will get you noticeably whiter teeth after a few months," Chase says.
• "Dairy products such as yogurt, milk, and cheese contain lactic acid, which may help protect teeth against decay. Hard cheeses are best for whitening because they help remove food particles as well."
What do you think? Will you be adding any of these foods to your diet? If you ask me, it's easier than a month's worth of whitening trays!