Is Skin Cancer Only a White Person's Disease?

Posted by Anna on August 9, 2011 at 01:19PM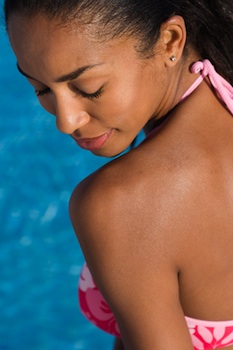 I'll admit it: As a Latina, I have excused myself from sunscreen on numerous occasions under the assumption that skin cancer wasn't a reality for my brown skin. Of course, I've wised up since working in the beauty industry. Though to continue in the theme of honesty, slathering on the SPF recently has been more to delay future wrinkles than to protect my skin from melanoma.
Turns out I'm not the only minority naively forsaking sun protection and assuming skin cancer only happens to those with pale complexions. As Dr. Heather Woolery-Lloyd recently told CNN, "The common misperception that naturally bronzed skin is immune to the threat of skin cancer is a dangerous one."
Woolery-Lloyd went on to say that in this country, "minorities are less likely to be checked, diagnosed, and treated for skin cancer in its early detection stages. Because of this, those with darker complexions have a greater risk of dying from skin cancer than their light-skinned counterparts," she says.
By perpetuating the urban legend that skin cancer is only a white person's disease, communities of color assume that their dark skin does not need SPF protection or to be checked for skin cancer. Woolery-Lloyd says this dangerous assumption "has become a silent killer with deadly consequences."
The takeaway? Skin cancer is not just a white person's disease. No one is safe from the effects of UV radiation, no matter how dark their skin color.
"The need for proper education and skin cancer screenings is crucial," says Woolery-Lloyd. "Increased awareness of this will ensure that the African American and Hispanic populations don't fall victim to a very preventable disease."
So please, my fellow minorities, protect your skin every day with these reader-approved sunscreens, don't use tanning beds (see why here) or lay out in the sun, and finally, get screened -- it could save your life.